Previous news items, including research outputs and policy briefs produced by the Woody Weeds project.
---

In a video, PhD student Amina from Tanzania explains how working in the interdisciplinary Woody Weeds project prepares her for her future career. Read more …
---

For the second phase of the project, we are cruiting four new PhD students. More information available. Read more … (post of 6 July 2017)
---

In a video, people from Afar, Ethiopia, talk about the impacts of Prosopis on their livelihoods and Woody Weeds team members talk about what the project aims to do in Afar. Read more …
---

Prosopis has started invading in Tanzania and this INSIGHTS brief, the first in a series, provides background, management options and implications for policy. Read more …
---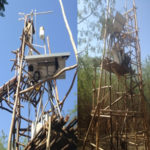 One of the PhD students in Woody Weeds Project, Mr Hailu Shiferaw, measures the amount of water consumed by Prosopis trees in the Afar Region of Ethiopia.
---

The Ethiopian Ministry of Livestock and Fisheries published its "National strategy on Prosopis juliflora management" in January 2017. A proposal for a Prosopis mangement strategy for South Africa was also published.
---

In our latest scientific publication we analyze the potential of novel high resolution satellite images to indentify, map and possibly monitor the invasive species Prosopis spp.
---

A Woody Weeds meeting was held in Ethiopia from 7-11 June 2016 at Adama Town in the Rift Valley. A highlight was the one-day stakeholder meeting that was attended by farmers and pastoralists from areas affected by Prosopis and Lantana.
---

PhD students participating in the first phase of the Woody Weeds project presented their project outlines and some initial results during the recent project meeting in Adama, Ethiopia. The six students play an important role in the woody weeds project and we were excited to learn about their progress.
---

Important knowledge about woody invasive species and how to manage them was shared at a stakeholder engagement workshop in Tanzania at the end of November 2015. The workshop was held during a Woody Weeds project meeting in Amani Nature Reserve and local, regional and national stakeholders were invited.
---
The Baringo district northwest of Nairobi is one of the regions in Kenya where a number of mesquite species, Prosopis spp., were introduced some 40 years ago as part of poverty alleviation efforts. The trees were intended to provide, among other benefits, additional income.
Today Baringo is one of the most heavily invaded regions in eastern Africa, with severe consequences for the rural communities. As part of the kick-off meeting of the recently launched, Swiss government funded R4D (research for development) project called "Woody Weeds", the project team visited the district, one of the case study areas in the project.
---